February 22, 2023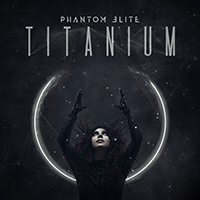 The intriguing mystery of musical passages with hints of oriental motifs wraps the Conjure Rains vocal story in a charming lace of sparkling mystery, continuing the musical fairy tale of the Phantom Elite - Titanium album with inspired vocal phrases of the singing lady, intertwined with musical variations in the enchanting dance of The Race song.
The dreamy suite of romantic keyboard notes ends with the rhythmic tread of a stern march, then intertwining in the symphonic ascension of the Diamonds and Dark musical composition with the vocal one, bringing notes of modern musical trends that develop more fully in the sound of the Worst Part of Me romantic ballad and the assertive inspiration of the musical ascension of the Glass Crown composition, alternating vocal part and musical passages for the sake of uniting them in a single inspired ascent of the chorus.
Weaving the bewitching lace of a captivating musical fairy tale, the Titanium album's title track then elevates the vocal phrases to the crests of musical waves, bringing sensual tenderness with soft emotional phrases, developing modern musical shades in the rebellious pressure of the Bravado composition full of musical contrasts, revealing the sparkling futuristic whirlwinds of musical passages and the mystery of vocals reflections in the Silver Lining twilight atmosphere.
Mesmerizing with a gentle chime of guitar strings in an enchanting guitar solo, the Haven instrumental composition precedes with an introduction the performance of the Deliverance musical image of an inspired vocal part, raising the banners of greatness and significance of knowledge and achievements in a solemn procession of the chorus, preceding the end of the album with an alternation of musical charm and vocals reflections of the Eyes Wide Open final composition of this album.