April 02, 2023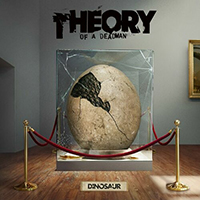 The title track begins the Theory Of A Deadman - Dinosaur album with a persistent procession and musical suspense, elevating the vocal story of the chorus to the top of the musical stream, continuing the sound of the Medusa (Stone) musical fairy tale with intriguing mystery, weaving the vocal story with sparkling threads of guitar riffs.
The romantic atmosphere of the musical passages is considered in the Sick song with a certain humor and playfulness of the vocals lyrics, pushing the vocal part to the forefront of the musical image of the Two Of Us (Stuck) composition.
Somewhat diversifying the stylistic shades of the album, the Ambulance song brings the influence of other styles with vocals recitative and the ascension of music and vocals in the chorus, pacifying the sound of the Sideways gentle ballad, complementing the vocals story of the intro and verse with a keyboards suite, then elevating the vocal narrative to the top of the chorus sound.
Invoking vocal phrases to the rolling waves of drive, the Get In Line composition brings notes of rebelliousness and love of freedom to the album, developing these aspirations in the dreamy ascension of the Head In The Clouds song, combining music and vocals in the charm of free flight. Vocals come to the forefront of the inspired story of the Hearts Too Wild musical fairy tale, continuing vocals primacy in the sound of the Summer Song final composition of the album.