February 20, 2022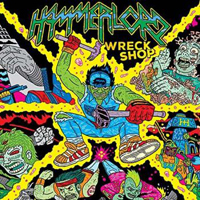 Romantic and incredibly melodic Many Moons Deep guitars solo charms with a soft and thoughtful sound, but then the Hammerlord - Wreck Shop album explodes with a furious musical thriller of the title track.
Somewhat moderating the frenzy of drive, the Extensive Enterprises composition gives more importance to the vocal part, further developing this stylistic direction in the sound of the Headbanger song, enchanting with melodic guitar solo instrumental part. Powerfully, rhythmically, and assertively, the Load The Spaceship battle march pummels its way into the chosen path, taking off in sparkling whirlwinds in instrumental bridges.
Once again A Most Excellent Montage acoustic guitar solo serves as an introduction to the onslaught of the The C.O.L.L.E.C.T.O.R. frenetic musical thriller, which pulses with the furious pressure of the musical drive, retreating before the pressure and persistence of the Cream Of The Crop and We Are The Storm rhythmic mid-tempo marches.
The Dweller On The Threshold composition transforms the sound, serving as the most varied composition of the album, concluding with the Future Proves Past instrumental symphony.