March 12, 2022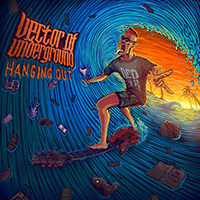 Insistent, unyielding powerful waves of musical drive roll up with a powerful shaft of mid-tempo power of the Your Boyfriend Sucks! introduction, crowning the final section with bright and sparkling guitar solo anticipating the introduction of vocal insistence. The Remain Calm harsh march continues the sounding of the Vector Of Underground - Hanging Out album with measured marching, introducing vocal reflections in the atmosphere of romantic inspiration, supplementing the vocal part with different variations. The whirlwind of the guitar solo takes you into a sparkling whirl of guitar riffs together with the variety of the vocal part of the Prejudices song which combines artistry with rhythmic insistence and indignant recitative.
Echoes of oriental motifs foreshadow the twilight mystery and mesmerizing transformations of the Rock'n'roll Party festivities. The All Who Wanna Change Me composition fascinates with an intriguing introduction, then builds its musical structure from a combination of unexpected variations. The mystery and enigmatic motifs of the introduction build up the enchanting artistry of the No Right To Love musical lace, anticipating the romantic brooding of the vocal doubts in the introduction with mysterious reflections, anticipating the development in a musical celebration of restrained power and enchanting melody.
An enigmatic introduction intrigues with the anticipation of the further development of the That's Right! Let's Ride! composition, which enters with a sparkling sparkle of electronic pulsations, enveloping the guitar riffs and then bringing the vocal part to the forefront of the musical image. The bass solo sets the stage for the further development of the unity of the thrilling I Don't Care musical motif with the rebellious vocal proclamations and the bright flash of the guitar solo of the instrumental bridges. The Peniche soft romantic ballad closes the album with an enchanting unity of acoustic chiming strings and romantic vocal reflections.