September 13, 2019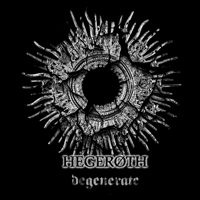 Power, rage and all-encompassing significance go back to the introduction of the Eyes Wide Open song, then weaving vocal passages of growling and screaming in a single stream, bringing screaming to the forefront in the dance with the main motive of the song. The Hegeroth - Degenerate album continues with furious and unbridled drive, twisting the Master Of the Sins vocal and instrumental rage into a single stream of musical fury.
The Oh Glorious Night vocals come to the forefront of the musical narrative, allowing musical variations to braid their narrative with enchanting vortices of musical variations. Power and drive are carried away in an unbridled race, but the vocals bring some thought, swept away by instrumental bridges and Through the Window chorus.
Stepping out of thought, then the I Need Blood composition embodies the rage and thoughts of a changeable vocal and musical nature. Discarding the thoughts of the previous composition, No Halo No Tiara throws them over and crown the covers of their speculations, enveloping with dark omens. So Calm continues the album's narrative by rampant drive, from time to time shimmering with reflections of eastern charm. The dancing drive continues with a rampant flow of music, the Valley Of Dusk vocals complement these dancing motifs. Phantoms in the Night concludes the album with an inspired perception of a dark entity.