January 26, 2018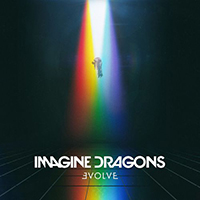 Dancing in a pulsating manner I Don't Know Why begins the Imagine Dragons - Evolve (Deluxe Edition) album, which won many laurels, received many awards and tributed by fans worship.
Mysterious musical background shades out the vocal recitative, which dominates in Whatever It Takes composition. The vocals dominance continues in Believer song, an even more romanticizing musical image, lyrical motifs wrapping vocals confessions.
Restrained meditative reflections in Walking The Wire verses are flashed up with a bright flash of inspiration in the choruses.
Rise Up continues this style, music in verses becomes more dreamy and sublime, ascending in choruses with bright impressive revelations above the clouds, invoking to rise over the burdening ordinarity.
Thoughts, the description of their emotions and experiences in meditation form in I'll Make It Up To You verses, ascending undeniable statement in a confident wave of the chorus.
Swaying with the leisurely sound of a thoughtful ballad Yesterday brings the atmosphere of reflection of the saturday's morny merriment of the Friday festival in a suburban tavern.
Like a bunch of believers glorify the hymn to their deity in the Mouth Of The River introduction and choruses, the precept's instructions create couplets.
Confident, instructions and clicks of fingers with a clap of hands are combined with a fascinating guitar solo in the Thunder instrumental part.
Reflections on what and how to bring the subject of adoration, enveloped in the perception of this wondrous ugliness precedes revelations shrouded in Indian folk motifs in the Start Over choruses.
The incredible peace and tranquility are carried by the glittering sermons invoking join the preacher in his Dancing In The Dark, which will bring incredible divine blessings and unique joys.
Perhaps one of the graces will be ability to Levitate wherever you want, regardless of any interference. Vocal dreamily uplifts the tone to the upper ranges, offering just levitate, just levitate. Calm and pacifying ballad Not Today brings the atmosphere of their native places, in the country atmosphere distancing experiences and doubts. Believer (Kaskade Remix) changing the style of the composition beyond recognition, turning it into a kind of soul music reflection.