August 29, 2020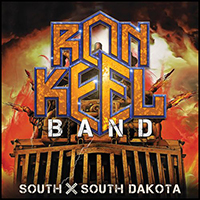 The harmonica captivates with the introduction, then the Train Train siren anticipates the spicy spirit of the dark prairie, weaving vocal phrases with musical passages. The Rockin' Into The Night continues the Ron Keel Band - South X South Dakota album with a mid-tempo procession, crowned with emotion, inspiration of vocal phrases, which carries its impressions on the flags of the chorus. The participation of the invited singing lady and the notes of the guitar solo, hardened in the sparkling charm of the romantic ballad, give a peculiar charm to the Don't Misunderstand Me (feat. Jasmine Cain) composition.
Soft acoustic guitar motifs set the course for the Red White & Blue romantic ballad, then blend with the charm of vocal meditation. Giving the guitar solo the intro of anticipation of drive Flirtin' With Disaster picks up the tempo with the vocals intro, but the music finishes off with mid-tempo vocal grandeur, which is combined with the country style echo of the Ramblin' Man next track. The Fire On The Mountain song carries a listener into the stream of wanderer's stories, recalling his travels and experiences, complementing the vocal part with bright motives of guitar passages.But the adventures experienced again and again remind of their native places and childhood memories, pulsing the Mamas Don't Let Your Babies Grow Up To Be Cowboys track's music rhythmically to support vocal inspiration.
Tightly marching into the unity of hard blues and spicy echoes of southern rock shades, the Homesick blows up powerful waves of musical march, complemented by vocal meditations. The sound of the wind and the melodic charm of an acoustic guitar solo is preceding the Ghost Riders In The Sky whirlwind of wandering memories galloping at a rhythmic gallop across the hot desert of wasted prairie. The final track of the album Creedence Medley (LIVE) complements it with the energy of fans, imbued with musical inspiration from the band's live concerts.