February 15, 2018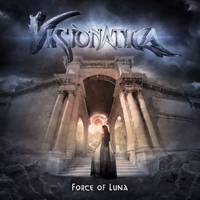 Storm, bad weather sighs of the wanderer are intriguing along with the ghostly chorals Visions (Intro), which lay the foundation for the symphonic and diverse album. Visionatica - Force Of Luna Music produces a wave of rage, then freeing the field for thinking female vocals. Then these parties are united in a charming melodic composition Swamp Of The World. In the end, the pensive thoughts of the sage precede the musical finale.
The Lilith main motive manifests itself at the very beginning, enveloping itself in the whirlwind of a symphonic atmosphere. Violin passages magical fairies are singing over the main theme, with the introduction of the vocals complementing the sound of spicy oriental motifs and introducing the impression of long wanderings.
She Wolf intro sweeps a wave of drive, but the vocal restrains the composition in an average tempo, conveying a kind of romantic she wolf story, swept by doubt in an atmosphere of suspicion and mistrust. A thoughtful, mysterious atmosphere of angerless reflections is preceded by a bright guitar solo, solemnly and majestically completing the composition.
The Imprinting Lies musical pedestal sets the vocal full attention, focusing on the reflections of the pensive lady, enveloping her feelings and emotions with the romantic atmosphere of the emotional ballad.
The symphonic Certainty Of Benevolence melody continues in oriental motifs and with vocal phrases a lofty lace admires with bright and inspiring shades.
So thoughtful and restrained symphonic The Thorns saga slowly develops the charm of classical musical motifs, preferring not to interfere with the soft and calm vocal narration to develop, completing the narrative with the musical triumph of orchestral passages and the duet of male and female vocals.
Again, the Totem intro with a powerful force embracing the enchanting dreamy anticipates a solemn, proud march that will evolve to its fullest after a thoughtful vocal confession.
Fusing and developing the narratives of the previous compositions, Never Will Die completes the album with a wave of mystical drive, magic sparks that enchant a magical splendor of the sound of music and vocals, and from time to time compact the rhythmic component of the sound.