February 27, 2020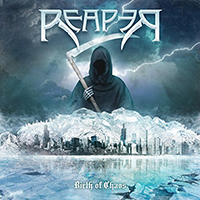 A mysterious sacrament envelops in an intriguing atmosphere of Possessor Of Evil intro, then the swift drive of a musical thriller movie captivates with an unrestrained musical extravaganza, transforming into a mid-tempo march with the introduction of vocals, again exploding with swift passages in instrumental bridges. Wartorn continues the Reaper (GBR) - Birth Of Chaos album with whirlwinds of drive, keeping on the verge between the average pace and unbridled swiftness.
Hardening and weighting the sound, World At Redemption brings elements of thrash metal style, which was already evident in the vocals of the previous composition. The Crypt continues this style, supplementing it with a cover of mysticism and introducing the dark anthem in the chorus. Preserving the mystical essence, the Entropy musical passages ends with bright and mysterious guitar notes, complementing the mysteriousness and twilight understatement of the vocal narrative.
The majestic essence of the pulsations of the Wings Of Darkness rhythmic intro's march recedes before some tempo acceleration before the introduction of vocals. The gloomy grandeur of the intro passages again recedes in front of a mysterious melodic drive of guitar riffs that lifts vocal emotions to the top of the Checkmate musical image.
Combining the twilight of mysticism with the trends of science and cosmic currents after a mysterious introduction, Area 51 spins a stream of exciting musical narration. The mesmerizing melody of a guitar solo in the introduction assumes the further development of a romantic ballad, but further Sixth Circle Of Hell is transformed into a whirlwind of restrained drive, confidently walking along the verge of an average and fast pace. The Way Of Shinobi completes the album by pumping up waves of powerful drive, but in the final part of the composition, an unhurried inspirational guitar solo enchants with majestic melody.