May 02, 2021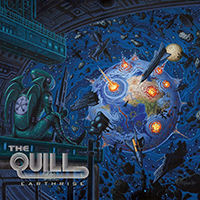 The pumping waves of the mid-tempo drive, the Hallucinate composition clearly emphasizes the vocal emotionality of its name in the chorus. The guitars solo with uncomfortable drive in the Keep On Moving intro is imposed by impatience, continuing the The Quill (SWE) - Earthrise album with vocal and musical insistentness.
The Dwarf Planet romantic ballad waters the mild melody of music passages and the dreamy thoughtfulness of the vocal party. But then the music is sometimes transformed by varying the tempo and melody, complementing the variations of the harsh, viscous and painful march. Music and vocals are combined in a single musical stream of impatient conception, successfully and excitingly combining this mood in the sound of the Left Brain Blues composition.
The Earthrise title track is captivating with the uncompromising drive of a guitar solo, walled guitar riff vocal inspiration. The Evil Omen again begins romantic thoughtful vocal reflection, but then displays vocal phrases to the forefront of the stubborn rhythmic march.
After the revealing entry, oppressed by the final chords of the previous composition, the 21st Century Sky track impatiently speeds up its musical sound. The Zone song's music is marching in a spicy atmosphere of southeless leisurely thoughtfulness. The Dead River ballad puts the point in a music release, starting the chime of strings of an acoustic guitar, then sparkled them in a single dance with vocal meditations, varying vocal phrases and guitar notes.