March 21, 2019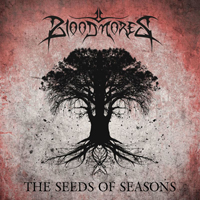 The mysterious guitar riffing begins Bloodmores - The Seeds Of Seasons album with an intriguing mystery, then the Metamorphosis composition writes a lace of epic musical motifs, bringing the enchanting atmosphere of a forgotten tale with vocal phrases.
The majestic narrative of the The Circle Of Betrayal epic march continues the musical narration, the vocal phrases full of significance confidently parade and in the instrumental part music is transformed into a proud anthem. Save Your Prayers continues the haughty majesty, twisted in a whirlwind of the main motive around deep and thoughtful vocal phrases.
The epic atmosphere is complemented by an epic sound of As Mercy Renders You Senseless composition, entering with a pulsating march, but with the vocal coming in transforming into a rampant drive, returning to the pulsating march in the bridges and elevating the inspired tale in the chorus.
The introduction builds anticipation of a stormy ending, then, in a gloomy atmosphere, the vocal part comes out on the fore of the musical image of the A Monument To Illusions song, rolling in waves of severe growling.
Fascinating with the intriguing mystery of introduction then Blind To The Fore brings the vocal narrative to the forefront, shrouding epic reflections with canopy of majestic music, exacerbating the significance of the sound by fascinating instrumental bridges. Then mid-tempo reflections give way to impetuous guitar solo in the instrumental part, but continue to defend their dominant role with the return of the vocals.
The whirling vortex of the main motive around the vocal part The Gauntlet And The Guillotine is rapidly and uncontrollably carried away by waves of twilight drive.
Vocal phrases affirm their significance, the musical trends of the accompaniment support the atmosphere of the Cessation For A Tortured Soul epic saga.
The title track The Seeds Of Seasons completes the album, combining meaningful pieces of inspirational narrative and explosive whirlwinds of fierce drive. Then, dreamy phrases of pure vocals expand the stylistic framework of the album, complementing its musical shades with brooding romance.