February 26, 2021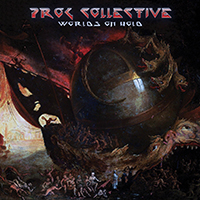 The musical narrative of the The Prog Collective - Worlds on Hold collection of covers dedicated to the work of progressive rock and created by famous musicians who were inspired by this musical genre, its stylistics and artistry, begins with the Worlds on Hold (feat. Todd Rundgren & L. Shankar) title track, bringing into the sound the winds of space currents and the charm of their influence on the minds and creative abilities. The Two Trajectories (feat. Geoff Tate & Ron "Bumblefoot" Thal) song sticks to a similar direction, but changes the vocalist and transforms in the atmosphere of a mystical fairy tale.
Romantic experiences interwoven with the progressive complexity of the musical accompaniment are woven into the musical lace of the Anything but Goodbye (feat. Jon Davison & Patrick Moraz) composition. The Meant to Be (feat. Billy Sherwood & Jan Akkerman) musical story captivates with dreamy vocal reflections shrouded in sparkling reflections of musical charm.
The sound of the Brave New World (feat. Sonja Kristina & Steve Hillage) song complements the musical expanse of the album with the charm of the female vocals. The Glory Days Ahead (feat. Arjen Anthony Lucassen & Steve Hackett) romantic ballad envelops the listener in a delicate enchantment woven of artistic variations around vocal sensuality.
The soft chime of the Solsbury Hill (feat. Roine Stolt & Billy Sherwood) (Peter Gabriel Cover) sound gives the album's musical narrative the charm of native land memories. Returning to the '60s, the A Whiter Shade of Pale (feat. Graham Bonnet & Derek Sherinian) Procol Harum Cover reimagines one of the most memorable songs of those years, then wraps up with the romantic atmosphere of the Eye in the Sky (feat. Joe Lynn Turner & Martin Barre) (The Alan Parsons Project Cover) track and continues the atmosphere of memories in the sound of the Nights in White Satin (feat. David Clayton-Thomas & Geoff Downes) (The Moody Blues Cover) song, which sounds the final chord of this release.