October 31, 2020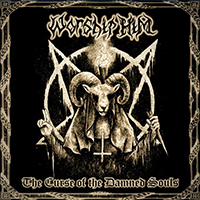 A mysterious fog with echoes of distant suffering and the Intro: Eternal Damnation appeals of vague echoes of suffering prisoners develops in the Mary's Butt Defloration main motive of frantic drive, complementing the furious musical passages with the harsh emotions of demonic screaming and background additions of deep growling. These elements, complemented by melodic guitar notes, embody the true essence of the Worship Him - The Curse of the Damned Souls (EP) album.
The frantic drive flies away into the vibrant and captivating essence of the music stream, bringing the atmosphere of true black metal so revered by fans. The vocal part complements the Antichrist composition's music with emotional shades, complementing the dominant screaming with growling appeals. Musical passages combine the frenzy of impetuous drive with notes of melodic charm. The vocal part comes to the fore of the Cannibal musical image, bringing growling into a dominant position and complementing the mid-tempo march with the charm of epic invocations of guitar solos, raising this unity to the rank of a majestic anthem.
Exploding into a whirlwind of impetuous drive, the Nazarene Worms track combines vocal screams and musical frenzy into a single musical stream. The Fornication with Christian Whores completes the album by bringing vocal phrases to the forefront of musical narrative and complementing them with epic guitar solos of instrumental bridges.