August 19, 2018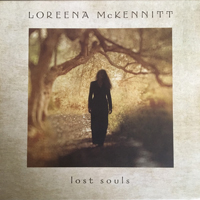 The gentle and gentle reverberations of sensual vocals, entwined with the chime of guitar passages and the sensitive violin tendencies Spanish Guitars And Night Plazas begins the Loreena Mckennitt - Lost Souls album, creating a soft and thoughtful atmosphere, as if soothing of anxiety and trepidations.
Dissipating the anxieties of the previous composition A Hundred Wishes envelops the mind and sensations with encouraging inspiration, giving calm confidence, inspiring vocal promises on a majestic symphonic musical background.
By deducing the vocal part on the front edge of the Ages Past, Ages Hence composition, the musical image supplements and sustains its experiences with the flashes of violin and cello, the keyboard suite and the trendsetters of the fairy symphony.
A marvelous The Ballad Of The Fox Hunter ballad, intertwining a wonderful basic motif and a vocal narrative with gentle orchestral passages and charming symphonic additions fascinates to the depths of the soul.
The notes of anxiety of the Manx Ayre intro appeals to the trends of folklore motifs, weaving guitar breaks with enchanted magical additions of violin and flutes inspires an unforgettable instrumental suite.
Wrapping an incredible calm La Belle Dame Sans Merci like a lullaby calms the experience, enveloping the gentle atmosphere, bringing the vocal reflections to the front edge of the musical canvas.
The notes of worried experiences are intertwined in the lace of the instrumental composition Sun, Moon And Stars with folklore trends, indicating that the memory of centuries is embodied in the blood in our veins.
Again remaining on the background of the vocal part, instrumental accompaniment is so diverse and versatile that it complements that it is possible to describe this majestic and enchanting Breaking Of The Sword ballad indefinitely - each listening to it will perceive it exclusively in its own way.
Continuing the wise tranquility, the title track Lost Souls completes the album by interlacing vocal narrations, keyboards passages and violin inspirations with a musical background pacified by symphony and charm.