September 26, 2016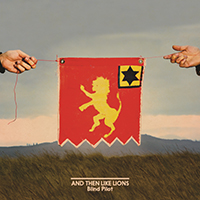 We can not comprehend the incomprehensible, it is impossible to reach the unreachable - Blind Pilot - And Then Like Lions we gain strength, powerful sharp claws and our fangs became unstoppable!
Quietly and calmly starts, Umpqua Rushing spreading waves of peace and relaxation around, bringing confidence in the future with its melodic canvas.
The melodic ballad Joik #3, begins with a romantic monologue for a quiet and peaceful chiming guitar strings. And in the same style - like a tired bard broadcasts descendants of their bygone days and memories. Then memories acquires additional values - percussion, violin and banjo adds to their sonification.
Romance does not leave the sound of that artwork, Moon At Dawn embodies romance and dreamy mood - and it was brought by the moon before dawn.
After the romantic passions and playful dreams -it's time to think about Packed Powder. With this powder so - oh, someone has dropped it down! Rainbow in the room? Why would it all?!
Intertwining disappointment, doubt, hope and desire for change in all of this imperfect and boring in a single porye, the main thing - Don't Doubt!Feel free to carry the banner of changes forward and without any shadow of a doubts!
Seeing Is Believing displays a romantic way of realizing the obvious things, wind instruments complement the gentle guitar and calm vocals, impressive rush emotions in conscious mainstream.
Starts with gentle quiet guitar fingering, conceals emotions of vocals monologue whisper, next Which Side I'm On rides like a convoy of travelers in the exploration of new horizons as they're scouting the unexplored reigns, lands and even worlds!
Older folk tunes It Was Enough are flying through space on the wings of the guitar strings, added with a quiet subdued vocal monologue chant, occasionally supplemented by notes of female vocals.
Epic saga What Is Yet begins with mysterious mystical orchestra, wind instruments share the melodic palette with violins. Then, guitar and vocal ceases symphonic sound for a bit with its nervous and emotional part. But Orquesta doesn't fade away, only await behind the curtain for a while - to complement vocals with its symphonic irresistible passion!
Almost-title track Like Lions sounds like a romantic dream of the impossible, by drawing ghostly castles in the clouds in the gusts of wind instruments, vocals phrases telling about dreams and aspirations. But, if we - like lions - we can all these ghostly unrealistic expectations translate into reality! And symphonic accompaniment helps the narrator in this case!