April 17, 2019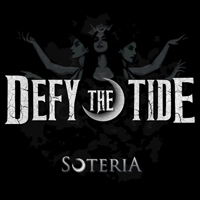 The enchanting melody of a guitar solo in the introduction sweeps up sparkling whirlwinds of brooding charm, enveloping vocal reflections with enchanting delights. Vocal phrases envelop the mind with a fog of doubt, starting the Defy The Tide - Soteria album with the Traced In Flames bewitching romantic ballad. Then the music is transformed into a pulsating twilight, giving the composition some instrumental drive patterns in the instrumental bridges.
The pulsing rhythm envelops vocal reflections, heralding romantic thoughts. Then the music and vocals bring in some drive ideas, speeding up the musical passages to an average tempo and from time to time to diversify the musical image of the Catalyst composition with fast-moving passages and inspired vocal appeals.
Motives of a gloomy, saddened Primrose Path march are occasionally replaced by waves of rebellious inspiration, which carry away vocal reflections on the wings of an inspired drive. However, keyboard passages reintroduce the spirit of the sad anthem.
The vocal part raises the banner of the main motive, followed by a knightly procession of instrumental motifs, creating a magnificent detachment of accompaniment of the middle tempo melodic composition A Spectre In Silence that completes the album.