June 17, 2021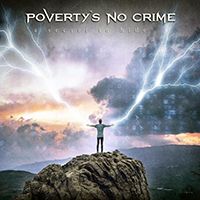 After a long and painstaking development of the instrumental artistry of the introduction, the vocals complement the sound with emotional inspiration, bringing sparkling notes of mysterious charm to the musical canvas of the Supernatural composition. The Hollow Phrases song continues the development of musical variations of the Poverty's No Crime - A Secret to Hide album after the progressive fracture of rhythmic structures, crowning the crests of musical waves with vocal inspiration.
Musical passages accelerate the tempo and captivate with the varied artistry of guitar solos, complementing the musical atmosphere with backing keyboards passages and taking vocals to the top of the Flesh and Bone musical image. After an intriguing twilight mystery, the Grey to Green is carried away into a sparkling tunnel, traveling through fabulous spaces.
The sound of the Within the Veil song complements the musical atmosphere with the romantic charm of a brooding ballad, enveloping vocal reflections in soft and tender veils of musical melodism. The Great Escape vocals phrases appear as a rare addition to an instrumental symphony dominated by the artistry of guitar passages, crowned with the charm of keyboard symphonies.
Beginning with vague reverie, the sound of the Schizophrenic composition plunges us into an atmosphere of unsolvable mysteries, adding additional charm with intriguing vocal phrases, sometimes bringing some notes of bitterness. The In the Shade ends the album with a romantic experiences of a bewitching ballad in its longest running composition.