May 20, 2021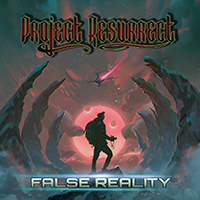 Inspirational vocal tunes of the We Are One song with the support of music begin vigorously, lively and rapidly starts musical narration of the Project Resurrect - False Reality album. The Keep Moving On track fragments with the resulting entry then sledding a mid-tempo march along the paths laid by musical passes and thoughtfully reflecting on the future.
Driving the militant mood of the drumroll, the Kill or Be Killed continues the musical history of the rapid flight of combat saga. The muffled memories shrouded with a romantic ballad alternate with the vikrii of a fierce drive in the compositional pattern of the Dead Mountain song. The drumroll, the intriguing pause of the Ride or Die intro ends with the rapid race of the unrestrained musical thriller.
Into creates the feeling that the romantic ballad will follow next. However, the sound of No Cure mid-tempo music with the explosions of the rapid drive complement the romantic vocal phrases. Negotiations of doctors and medical personal, the completion of the disconnection of medical equipment complete the composition.
The inspirational vocal party gives thoughtful romanticity of the Blood on My Hands song's sound. But then the tempo of music accelerates in a hurry race to the chosen goal. The In the Dream track puts the final point in the album, embodying all its features in its sound.