March 05, 2021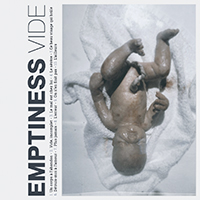 The sounds of the artificial respiration apparatus anticipate the twilight fantasy of a vocal duet, marching through the haze of ghostly omens and obscure guesses of the Un corps a l'abandon composition, which opens the musical chronicle of the Emptiness - Vide concept album. The Vide, incomplet continues the musical narration with a slight acceleration of the tempo, wrapping the vocal story in a whirlwind of gloomy musical passages that create a dark atmosphere. Anticipating the intriguing symphony of the introduction, the Le mal est chez lui is marching in a sad atmosphere, slowly and gently moving along the chosen musical path.
Distorted echoes of the Le severe forgotten radio programs act as an introduction to the wistful sound of the Ce beau visage qui brule romantic ballad, entwining vocal meditations in the lace of chime of an acoustic guitar. The artistic chime of an acoustic guitar solo anticipates the heartbeat of the Detruis-moi a l'amour romantic ballad that echoes the musical tones of French chanson.
The Plus jamais acoustic chime of guitar strings builds the enchanting outlines of sky-high castles, wrapping in dreamy tunes, complemented by a background vocal whisper. The musical melody continues the L'erreur saddened romantic tale, weaving musical passages in a leisurely dance with a vocal duet.
But in the sound of the On n'en finit pas composition, encouraging notes make their way, developing romantic sensuality in a positive way and directing muted vocal phrases in their distorted guise towards dreamy goals. The L'ailleurs track sums up the muted reverie of the album, adding to the rhythmic structure of the twilight musical mystery notes of the progressive complexity of the rhythmic structure.