July 25, 2022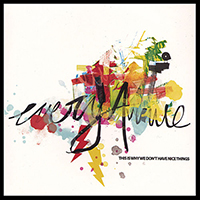 Music and vocals begin the musical narrative of the Every Avenue - This Is Why We Don't Have Nice Things (EP) album, weaving the playful and festive lace of the sound of the Chasing The Night composition, from time to time bringing notes of reflection and pensive musical images to its sound.
After a mesmerizing introduction, the vocal part of the Half As Much As You song comes to the forefront of the musical image, captivating the musical passages behind its narrative preceding the emotional ascension in the chorus.
Music and vocals are intertwined in a whirlwind of united musical stream, drawing you to the expanses of hobbies and wanderings, explaining with vocals lyrics the meaning inherent in the essence of the You'll Never Know musical composition.
The vocals narration of the All The Way Down song takes you on a journey through the dreamy expanses, inspiring with vocals phrases and creating a musical atmosphere of joyful celebration, completing the album with a reassuring and fascinating Trading Heartbeats musical story, complementing vocal reflections with a guitar chime.