June 06, 2019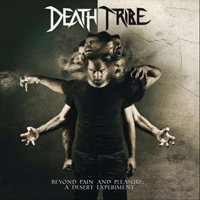 Dancing in a midtempo deathly march, the Hollow song begins the Death Tribe - Beyond Pain and Pleasure: A Desert Experiment album with mysterious playfulness, giving the music and vocal intriguing notes to a musical image, from time to time rushing into explosions of a rapid drive.
The title track Beyond Pain and Pleasure continues the musical artwork, pulsing the heartbeat of the invisible organism, varying the various speeds of the average tempo, sometimes overstepping its edge.
Progressive and captivatingly artistic motifs of the Implode Explode intro and outro guitars solo broadens the stylistic framework of the album, further complementing these revelations with the alternation of clean vocals with furious fragments with fierce music and stern harsh and growling vocals.
Exploding in a furious drive into the intro and verses, instrumental bridges lend a charm to a bass guitar solo, complementing the Neurotic Breakdown composition with fascinating creepiness.
The whirlwind of guitars passages casts a mysterious intrigue, then the musical canvas completes the Psychopathetic intro with epic passages that gains power and progressive twist with the entry of vocals.
Paying tribute to the origins of rock'n'roll by the Death Blues title and sound, envelops the chants of clean vocals with the trends of rock classics, but complementing them with shades of death metal music.
Viscously pumping a musical haze, the introduction of the Narcissist Bastard Nation song is intriguing, but entering the vocal takes the reins of the music in their own hands and dominates the rest of the musical image. An unrestrained torrent of violent drive bursts in by the swirling vortexes of musical rabies, in a rebellious manner paying homage to thrash metal legendary bands. From time to time, the Nuclear Hate vocals restrain the tempo before the pulsating march and pump up the significance of the narration. Twisted from side to side and alternating the vocal style from harsh to growling last album's track Face the Facts pays tribute to the heavy blues, then breaks into the flow of restrained drive, but returns to the style of the beginning and repeats this alternation.