January 22, 2021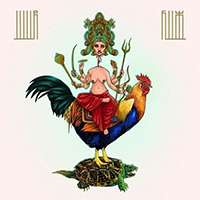 After intriguing preparation, the guitar solo enchants with mystical string chimes, preparing for dreamy vocal reflections of The Deluge song, which opens the musical narrative of the Juur - Flux album. The vocal phrases of the Blood Moon composition complement the sound with mystery, combining the unhurried artistry of the musical variations with a twilight haze of vague speculation. The dusky tale of the Leviathan song fascinates with its enigmatic and progressive development of musical ideas.
The Flux album's title track captivates with seductive artistry of musical thought, serving as an introduction to the Ocean of Samsara song, in which its motifs are complemented by a fierce nervousness and vocal fury that weaves together in a dizzying dance of musical artistry. The Dreamtime composition brings in echoes of minstrel ballads, tempering the musical and vocal fury with epic solemnity.
The vocal part, alternating and combining tonalities, comes to the forefront of the musical structure of the Coyote and the Skinwalker musical image. After the rhythmic heartbeat of The Obscure introduction, the vocals reflections add an intriguing mystery to the musical pulsations. The music brings echoes of cosmic currents into the sound, enchanting with anticipation of unexpected discoveries and a return to a powerful and rhythmic drive. The Hyperborea track closes the album with a mesmerizing fairy tale.