January 11, 2022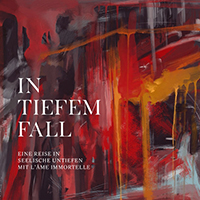 The gentle and mesmerizing sound of the singing lady's voice begins the L'ame Immortelle - In tiefem Fall album with the musical mystery of the Still song, marching through the sensuality of doubts and emotional struggles, starting the sound of the Der Fluch track with a brief invocation of the singing lady, then hardening the rhythm with dense and persistent industrial rhythm and musical passages and alternating the sublime melodies of the female vocals with the rigor and brutality of the male vocals.
The complication of the musical chime of sparkling strings complements the twilight musical background, then translating into the futuristic musical swirl of the Catch My Fall dance track. The Angst mid-tempo pulsations retain echoes of the dance mood of contemporary music, but change the vocal part to a return of tenderness in the vocal phrases, alternating between the tenderness of the female and the dreaminess of the male vocals.
Embracing the vocal musings of the singing lady, the music of the Everything Just Falls Apart composition envelops the vocal musings in a gothic twilight of ghostly mystery. The Asche epic saga creates a symphonic enchantment of the atmosphere with echoes of medieval tales, but then the music returns to dance rhythms, keeping the background leitmotif with echoes of ancient legends. The mysteriousness of the Dem Abgrund entgegen introduction intrigues, complementing the musical chants with the saddened reflections of the singing lady, then uniting the vocals and music in a single musical stream.
But the Castaway track combines the sensual experience of female vocals with the pulsating rhythmic beats of dance rhythm and mesmerizing melodies of musical variations, bringing to the forefront of the musical image of the Said and Done song emotional outrage of male vocals, alternating it with despair of female vocals and anticipating the sound of the final composition of the album Healer, concluding the musical story with a mysterious romance.