July 06, 2021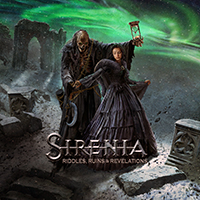 The Addiction No. 1 combination of electronic musical pulsations with inspired vocal handles of the singing lady begins the musical narration of the Sirenia - Riddles, Ruins & Revelations album with the unity of contrasts. The intriguing symphony preders the development of the Towards an Early Grave musical composition, then uniting with the inspired emotions of vocal reflections, departing in front of the anti-stand-up driving waves, twisting with vocal reflections in the rhythmic march.
The unity of popular music with symphonic omensions of majestic culture is becoming more and more popular, which proves the sound of the Into Infinity track. Music and vocals are combined into the sound of the Passing Seasons song. Some unity of contrasts is doubting and thinking in the verses, the signs of symphonic magnitude and opera vocals in the choruses are attributed. The We Come to Ruins initially performs the severity of the male groring to the fore, but then he wore the response of the singing lady to the sparkling lace of guitar solo. The Downwards Spiral is rolling the waves of the rhythmic march in joining, then complementing the sound by inspired and emotional handles of vocals phrases.
The Beneath the Midnight Sun track's electronic music is combined with the severity of the male growling and inspired with a doubts of the female vocals. The Timeless Waning continues such a musical style, decorating the sound of the inspiration of the vocal charm of the singing lady and the demonic severity of the male growling vocals. Melodic chime and vocal reflections anticipate the development of the main motive of the December Snow song. The This Curse of Mine begins with a helix of the drive and the progressive complication of the rhythmic structure, then retreating to the background in front of the vocal pressure. The Voyage Voyage (Desireless cover) completes the album by some transformation of the world-famous song.