January 02, 2018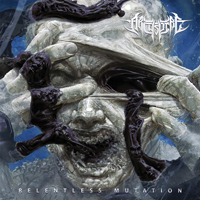 Rapid and high-speed composition Involuntary Doppelgänger, from time to time exploding with bright unforgettable improvisations, creating a changeable peculiar background for the vocals, begins the Archspire - Relentless Mutation album. In the instrumental part and the bridges, incredible melodism creates such enchanting images that it is simply impossible to describe it!
The waves of Human Murmuration introduction slowly unwinds, then the vocals with the demanding and uncompromising recitative is supplemented by the ineffable melody of the breaks of the guitar solo and the changes in the rhythm sections parties.
A dusky fog creates a mystical haze, in which the ghosts of the opera, kings of lichs, many other mythical creatures, scurry with shadows. Then the vocals and guitars, like Remote Tumour Seeker berserker in a deadly dance, dispells this fog with a frantic frenzy of swings of battleaxes The title track Relentless Mutation begins with a romantic guitar solo in a mysterious background of a gloomy fog, in a complex and obscure musical picture, anticipating a frenzied splash of instrumental and vocal fury, sweeping away all doubts with their unique parts, anticipating a wave of fascinating drive, where such a unique melody manifests itself in the incredibly complex and unforgettable structure of the composition.
The unyielding furious instrumental drive sweeps vortically in a spiral, raising The Mimic Well vocal phrases. In the instrumental middle, a dreamy romance dissolves the harsh power for a while, thinking about the vicissitudes of being.
Vocal phrases echo machine gun bursts, then Calamus Will Animate instrumental passages in ragged impulses and melodic passages competes with vocal phrases for the dominant position in the musical image.
An incredibly complex composition A Dark Horizontal, built on such a variety of melodies, again and again enthralling them to follow this path is rapidly replaced by new musical streams, inevitably creating other images that amaze with the sparkling of new and unforgettable motifs. The instrumental middle builds a cloudy chateau of a symphonic pastor, culminating in electronic impulses and a violent guitar solo, which, with a swift stream of drive, crowned with precious musical passages, brings the song to the final part that completes the composition and album.