November 15, 2019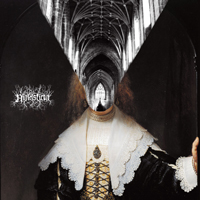 The twilight veils of obscure mysteries surround The Cave of My Soul vocals conjectures with a heavy haze, then the music continues with pensive gloomy fog the development of the beginning of the Nihilisticon - Behind a Mask a Metaphor is Written album, erecting ghostly castles full of mystical mysteries.
While preserving a bewitching mystery, Surprises and Expectations flies off in an uncontrolled flight of an irrepressible drive, but returns to reflections in a chorus and builds a persistent pulsation of a bewitching march, setting the mood for the entry of the Wellness Metaphor song, weaving notes of keyboard reflections in a mysterious fog and a pulsating solo bass guitar. Then these musical elements are intertwined in the construction of the main motive, which attracts all attention and raises vocal emotions and experiences to everyone's attention.
The Behind the Masks composition, the title of which claims to be the title one, explodes in a furious stream of demonic drive, but envelops this irrepressible extravaganza with sparkling covers of enchanting melody.
Interrupting brief thoughts, twirling invisible ghosts and guesses of the solo bass guitar, Notes Swimming in the Air then builds on its base an irrepressible drive of the main motive, crowning it with mysterious melodious echoes. Arranging lace of ghostly conjectures around the pulsating heartbeat of the keyboards notes of the main motive Reality Flew over the Clouds completes the album with an atmosphere of obscure mystery, complementing their muted vocal desires with their obscurity to even more bewitching limits.