March 20, 2022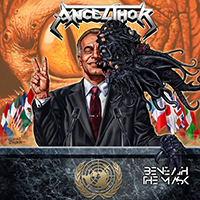 Starting with the acoustic pacification, the Destroying The Event Horizon composition unwinds and develops the unity in the sound of the Ancesthor - Beneath The Mask album - the artistic tranquility of the mesmerizing melody and the furious whirlwind of the furious drive. The Fortress Paehlk song accentuates the drive with varied artistry of musical changes of rhythmic essence.
Exploding into a whirlwind of unrestrained drive, the Heirs Of The Nitrogen Age track brings symphonic echoes of oriental motifs and artistic suggestions of the unity of styles and genres, which are further developed in the sound of the Motionless Surface song, enchanting with an intriguing introduction and a cutting blade of further musical drive.
Punching the way of the coming musical sound with rhythmic urges, the Icy Holocaust composition complements the musical image with the hysterical indignation of vocal frenzy. The Everlasting Quest musical sound fascinates with the unity of melodic and drive, intriguing the further development of the musical spiral around the vocal phrases.
Stressing persistence with resistance to the main motif, the Miserable Denoument song leads to notes of the charm of the guitar solo, combining it with the unity of the vocals in a mutual anticipation of the sound of the Vigilantes Of The Earth final track of the album.