November 27, 2018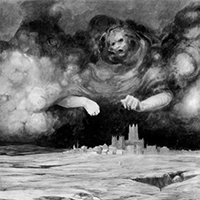 Leisurely and majestically, the Wearthless song rolls out the Famyne - Famyne album's musical canvas, vocals bring in vague influences of wise feelings and anxious forebodings. Then the instrumental bridge transforms the composition into unhurried meditations, stringing notes of perception of predictions and pre-changes and emotionally elevating the composition's final part.
Wandering the musical foundation of the Faustus composition with sparkling vortices, vocal phrases envelop the sound with waves of emotions and feelings in the choruses, taming the musical image in mystical mist of verses with gloomy fears.
Rolling in leisurely phrases telling a dark fairy tale, Slave Ship develops in a leisurely serene musical canvas, heralding meaningful and calm phrases, but then explodes with an unrestrained wave of drive, sweeping any obstacles from the chosen path up to pensive final reflections.
A soft and thoughtful Ghosts ballad envelops the mind with a mist of doubts and thoughts, enveloping us with unclear vocal experiences supported by the violin passages, bringing dreamy waves and majestic shades and anticipating vocal transformations, the exciting dominant position of the Tremor composition. An epic ballad takes on an alarming hue and transforms into an annoying and dark march, pulsing with elements of gloomy spells that complement the mysterious background vocal melodies.
A captivating romance and melodic Dreamweaver ballad completes the album, rejecting anxiety, but still being careful - you should think about love and feelings, listening to fascinating guitar solo intro, anticipating the rolling of dark and significant musical waves of the composition's main part.