October 28, 2019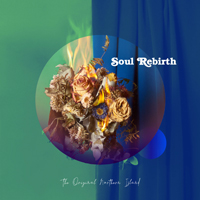 Vocal experiences intertwine with the Border / Popcorn chimes of guitar strings, inspiring memories of the The Original Northern Island - Soul Rebirth album's adventures, as if reliving them again and again.
Continuing the musical narration, the Surround Me / Unkind chimes of the guitar strings continues the musical narration of the album, vocal phrases support the background singing along with colleagues in a musical battle.
Starting with whirlwinds of emotions and reflections, spinning with guitar passages and vocal reflections, the Rollercoaster / Kimberly song again and again emphasizes its name.
Gently, sensually and bewitching Remain With The Living creates an inspirational atmosphere, complementing the main vocal part with background vocals of female vocals and a musical part with notes of symphony. The title track of the Soul Rebirth album elevates the atmosphere of romanticism to the forefront, rolling thoughtful waves of anxious intrigue and feelings. Then the Breath / The Weight Of My Chains / Interlude / Slowly composition develops these romantic experiences in a sensual aspect, enveloping with vortices of experiences and emotions.
Developing the atmosphere Blind & Alone / Let Me Find Out created by the previous compositions, it somewhat casts off the covers of symphony and more gently, in a native way, and more or less explores romantic open spaces. But instrumental fragments returns the orchestral symphony, completing the album with the unity of feelings, emotions and musical experiences.