September 09, 2019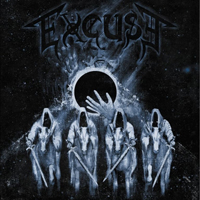 An epic guitar solo slowly envelops in fairy tales, then before the introduction of Black Crystal Visions vocals, the music develops the set entry motives into the furious stream of rapid drive, characteristic of this style of music. However, the instrumental solo in the middle of the composition begins again with epic trends of a fairytale atmosphere, then again interweaving in a single musical stream with unbridled metal fury.
Leaving somewhat to the melody characteristic of heavy metal, the Blade of Antichrist song continues the Excuse - Prophets from the Occultic Cosmos album, enveloping the restrained high-speed drive with the gloomy echoes of fairy tales. The title composition Prophets from the Occultic Cosmos again weaves a bewitching musical lace from different styles, braiding vocal phrases with progressive musical passages of the chorus, returning to the pulsating musical twilight in the verse.
Again, fettered by the fetters of a harsh drive, the Goddess Injustice introduction sparkles with guitar variations, before the vocal comes in, being transformed by mysterious tunes of a pulsating march, from time to time flying away with a swift stream of uncontrolled drive.
Building on the fascinating structure of the main motive for the introduction, Sworn to the Crimson Oath then raises vocal phrases to the top of the musical narrative, prevailing the stern medium-tempo drive of the verse with bewitching chorus tunes. Opening the gates of an epic musical fairy tale, the final composition of the album Watchtower of the Trans-Dimensional Pathway lifts the banner of the valiant anthem into the introduction, then it is transformed over and over again, intertwining many styles in its sound.