February 13, 2020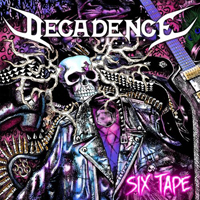 The title track sweeps out any resistance at the beginning of the Decadence (SWE) - Six Tape album, taking off with the rampant swiftness of the verse and offering up a refrain of a majestic musical motif crowned with an inspired vocal narrative, the result of which is a bewitching guitar solo. Capturing the Latex Rituals main motive in the dance and braiding the axis of the musical narrative with the enchanting vortices of the guitar solo captivates in the unbridled dance of musical variations, complemented by the emotions of the vocal part.
Driving a furious drum roll and artistic guitar breaks the beginning of the Red Facade Hotel musical path, then the intro ends with a pulsating march bordering a mid-tempo narration with a fast drive, complemented by dancing passages obeying vocal phrases. Wrapping up vocal part with bewitching guitar riffs, the Trinity song captivates with a very impressive melody and fierce fury of vocals phrases in a severe style, close to growling.
Circling in a whirlwind of severe and dense drive, Lo Badland musical passages envelop vocal reflections with powerful insurmountable walls of metal armor of a furious thrash metal march. The Something More introduction rolls the musical canvas, which suggests the charming melody of a romantic ballad, but the dark and gloomy musical passages pump up the frightening waves of the gloomy anthem, creating some waves of dark charm and sometimes exploding with a triumph of drive.
Chasing in the swift passages of the intriguing drive in verses, Exposure solemnly and majestically raises banners with the name of the composition in the chorus. Then In Natura again returns to the hardening of music, approaching the melodic death metal, enveloping, however, the musical structure of the composition with the covers of a saddened melody. The final composition of the album Tighter brings shades of medieval heroic sagas to the introduction, complementing the sound with power with the introduction of vocals and introducing a fast drive in instrumental bridges.