July 09, 2021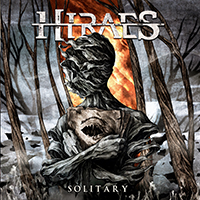 After the intriguing pause, the guitar solo brews the whirlwind of expectations, then the music of the Shadows Break song for a long time and vanity is preparing the accession of vocals, which begins in deep and harsh grover in the mid-tempo march, then transformed into a majestic solemn anthem procession. But the Under Fire composition explodes with unrestrained drive, then exposing vocal emotions to the forefront, dominant in a musical entity, continuing the musical narration of the Hiraes - Solitary album with a combination of drive and melodics. Accelerating a music pace, the Grain of Sand song wraps the vocal rage sparkling ribbons of guitar passages in the rapidness of the unrestrained musical race. But in the chorus, the music dies rapidly in favor of vocals reflections.
Rolling the waves of the musical fairy tale, the 1000 Lights crowned crests of musical waves by vocal phrases, combining screaming and growlring. After the intriguing intro, the Eyes over Black song puts forward a vocal part to the forefront of the musical image. When entering the magnificent melody of the guitar solo Outshine composition, then alternates this charm with explosions of an unrestrained drive.
The Solitary title composition, the swing sound of the main motive in the entrance hesitates the sound of a fierce musical thriller, sometimes shuffling the vocal angry with sparkling ribbons of guitar solo. After acoustic entry, the Strangers song again and again varies the sound in the framework of the romantic essence. The Running out of Time track completes the album with unity of romance, rage and drive.