June 06, 2021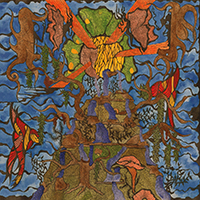 Instrumental Prolog prepares to the further perceived conceptual motive, indicating some of the essays and notes of that musical essence, which will be a leitmotif of the Jordsjo - Pastoralia musical artwork, who left the imprint and a trace in each subsequent composition. The Skumring i Karesuando complements the seasoned musical reverie of the lace of artistic covers with the essays of the ministrel suites and bardic sagas with a vocals experiences, combined with music in the fascinating dance.
The Mellom Mjodurt, Marisko og Sostermarihand composition envelops the twilight haze, carried away by leopard vocal reflections to the mysterious expanses of medieval legends about the magicians and warlocks, which enchant everything around the spells. The chime of acoustic guitar's strings complements artistic keyboards, progressive combined in the musical lace of the Pastoralia title composition. The vocal part complements this musical charm of the twilight thoughtfulness of romantic sensuality.
The acoustic chime of the Fuglehviskeren bard ballad creates a mood of thoughtful abnormality, acting by entry into the Beitemark following composition, more artistic and progressively revealing the essence of musical experiences of creative thinking and creative searches. The playful sound of the Vettedans acoustic chime draws to the medieval musical festivals, as if transferring us to the festive atmosphere of the fair on the central market square of the city of those times, speaking to the instrumental entry into the Jord III final album's composition, racking the inspirational canvas romantic thinking, fascinating to the wanders through dreamy expanses, filled with cloud castles, sparkling princes and magical temptations.