March 12, 2018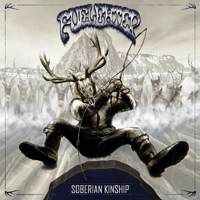 A confused, obscure twilight mist is filled with uncertainty by the movement of doubts, asking the same question again and again. The instrumental introduction sounds intriguing and encouraging, but the Fuel Eater - Soberian Kinship album begins with an intractable issue Who Am I?, the vocals thicken and concentrate doubts in the musical image. Instrumental finale envelops the bright cosmic melodies of the keyboard frills anticipating the last guitar break.
The playful, enigmatic Dead End introduction develops in the full verse of the questioning intonations of the verse, then in the chorus emotions and emotions rise to a completely different level, introducing a fickle note into an obsessive leaping march.
Controversy with the girl on the background begins the Dome Below composition, continuing with a deep and dark fog of musical confusion, the vocals sounds stiffer and harsher than in the previous compositions, music circling around vocal phrases imparts shades of dark romance.
Dancing in the mysterious fog Pretty People brings history closer to the introduction of vocals, sweeping a wave of sensual experiences, embracing all around the whirlwind of emotions. In this balad you can see shades of trash metal legends.
Fiercely and severely promoting the Cosmic Rifle introduction by the wave of hard drive then music is complementing such waves with harsh vocal and alternates it with the meditative reflections with a softer musical accompaniment. Before the finish part, the vocal breaks into a nervous scream, completing the composition with a fusion of initial contrasts.
Musical story Apathetic Whistle progresses slowly, deviating from side to side, swaying in a musical manner, but without changing the direction of the narrative.
The title composition Our Soberian Kinship begins as the majestic epic symphony, enveloping the walking lord with a proud, sparkling halo, then becoming an honor ballad. Starting in a soft, thoughtful lulling meditative sound of calm meditations, Standpunkt completes the album with a more powerful wave of romantic experiences, supplementing the exciting reflections with the dense sound of a significant ballad.