June 27, 2018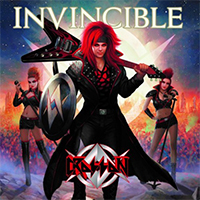 Harsh storm of inspiration and demands Rock Warriors starts the Crosson - Invincible album, but the vocals come in as if explaining their aspirations - then in the chorus rushing into unrestrained fun. In the next composition Never Give Up confidence grows, bringing inspiration to incredible heights, vocal is inspired in a marvelous dance with guitar riffs.
The pulsating drive dances around the Success Needs No Apologies main motive, the vocals complete doubts with their questions, uniting in the bridge doubts in the confident flow of the chorus. Inspiration is looking for input, Hero is trying to find in the surrounding reality, the vocal is meditating ... but a burst of bright inspiration complements the main vocals with female vocals, returning in the next verse to meditations.
The zeal for a better fate, for the transformation of everything around them, invokes the vocal duet of the female and male voices, bringing a capturing wave of romance - but leaving the Unconditional Love composition on some edge of the ballad and mid-tempo thriller.
But detachment ends with the recognition and Broken indication again and again, with an explanation of why weaving male and female vocals in the enchanting enchantment of a single stream.
Coming back to traditions Invincible, the streams of musical compositions in the mid-tempo composition are woven, as if going back centuries ago and arguing that nothing will change. Female vocal remains a bashful background, occasionally singing along.
No, it's not a cover ... however, certain notes of influence are palpable, although inspiration and interested Rebel Train shades are caught in the mid-tempo drive with the bonuses. Juggling mood notes in a blues manner Livin' The Life weaves a lot of stylistics, enclosing them in a single glamorous music stream at the output of the chorus. Southern notes brings waves of heat to our Back To Hell arena, but the vocals roll first with an interrogative wave, but completing the album is vigorous and meaningful.