January 06, 2018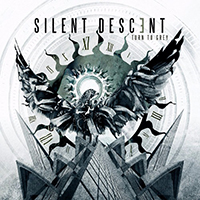 A wave of romance, supplemented by electronic impulses and ultra-modern musical ideas, combines in the first compositions of the Silent Descent - Turn To Grey album, X (51.362820, 0.213735) and the title Turn To Grey, which develops a lyric atmosphere in a thoughtful state of wise reflection.
In the introduction of space motifs again bring a bit of romanticism of the future, then after the drumbeat it rushes over the Vortex (feat. Bjorn 'Speed' Strid of Soilwork) main motive as mysterious keyboards passage in the composition with the participation of the world famous vocalist.
The Rob Rodda introduction with short passage brings the disco atmosphere, then the vocal phrases bring gothic ghosts, then it all goes together with the harsh vocals' growling.
Soft gentle ballad Sticky Fingers with its calm and sensual sound brings a romantic mood, then compacting impressions with powerful instrumental breaks.
The midtempo composition Voices builds its musical patterns on the combination of vocal duo combining a growling, screaming and clean vocal styles with the bright and impressive melody in the bridges and chorus.
Rolling music into mid-tempo march along the chosen path Gravesend in the chorus envelops everything with a sacred mystery romantic mood and invisible choruses on the background.
Immediately revealing all the sides of the main motive, then Under The Eagle combines dreamy clean vocals with soft keyboards, returning the main motive together with the severe phrases of the growling, which sums up the emotional party of clean vocals, supplemented with muffled phrases of female vocals, then combined with the growling in duet.
Once again, a soft romantic ballad Paths Winding in which a wandering bard, along with his companion in a duet, broadcasts about their wanderings and trials that have passed through them and are still waiting for their spirit and body.
Mysterious ghosts for the Hurt Like You've Never Been Loved introduction and the whole composition hovers around the main motive like invisible spirits, growling expresses nervousness, brushing aside these mysterious phantoms, again and again returning to their favorite places. The final episode of the composition is preceded by a classical symphony, which is then supplemented by vocal and guitar energetic power.
Acoustic guitar passages with thoughtful phrases of clean vocals brings the spirit of their native places, promising to return Back To Where I Belong, then from time to time come together with ultramodern musical moves and short phrases of growling vocals.
The soft motif with symphonic submission to the introduction is replaced by a violent and energetic drive in a verse with a growling, twisted over it in the inspired keyboard passages, again returning to the chorus with a clean vocal ending the album composition Break The Skies, in the final segment of which pure vocal is complemented by choruses on the background.