November 30, 2019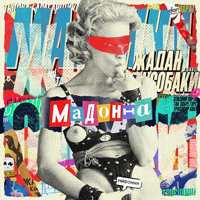 Already Intro explains - clearly, indisputably and unconditionally - in the Собаки в Космосе (Жадан і Собаки) - Мадонна album the main essence and importance is the unity of the essence of the lyrics and the musical cradle of this dish. Next, Троєщина with a kind of humor, understandable to the inhabitants of capital Kiev, let alone the people of all Ukraine, explains: that those born, brought up and living in a certain Kiev district are very peculiar people who served as a lot of perception patterns.
In the next song, the modern boring and predictable consumer society of popular music is stigmatized - and it is very jocularly sung that "for four years without Кобзон". Well, not only popular music dissolves the brain with the acid of its sound - but worship of Bacchus (or, as the inhabitants of that district and not only says - Бухло) does not lead to anything ...noble. Electronic motifs of keyboard variations and musical artistry are complemented by a very tough thriller in terms of lyrics - Тьолка барабанщика.
The title track of the album Мадонна is something that everyone will appreciate exclusively in their own way. Up to the point that even one person in a different mood and condition can evaluate it differently! The only thing I can assure without a single doubt is that this song should be heard and listened to! Мальви partly complements the originality of the title composition with a tribute of respect and reverence for the mother - no matter how it is revealed.
A very peculiar and unique love story - the vocal appears in the couplet as an unrestrained and indignant recitative, ascending in the Натаха chorus with emotional urges and a swift emotional whirlwind. It should be noted that the leader and vocalist of the group, Sergiy Zhadan, is a very interesting, successful and worthy writer - in fact Марат is a retelling of a fragment of one of his books. Outro completes the album with a very peculiar encouraging unity of sludge and punk.