May 30, 2018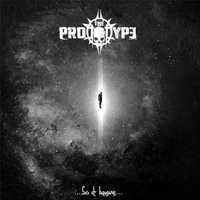 The rapid flow of drive carries away in an uncontrollable In Sicknes and Insane stream, bringing at the end of the bars the line with a melodic guitar passage. Vocal incredibly nervously tends to catch up with the hurried musical outline, starting the The Prototype - So It Begins album in a hurried race. The confident vocal phrases and the dark wave of the march complete the composition, smoothly flowing into the gloomy Fading Underground introduction carried away in a violent tug along with the introduction of the vocal, but returning to a pulsating, dense march in the bridge before the chorus, rolling the measured changes.
Dark meditative musical reflections break off the hysterical vocal phrases, nervously carrying away in the impetuous race of Betraying the World verses, summing up the passages in tougher and deeper manner.
Running waves of the main motive vocal winds the completion of the turns, again and again carrying away in the The Last Breathe of Silence dance. Then tma brings a wave of desperation, but music and vocals sweep these bonds aside. Beneath the Blade like continuing the previous composition, but stretching and scattering the rhythm and dispersing the vocal phrases in the much wider field.
The epic melody captivates with so exciting sound, incarnating in an undoubted hit Destroying the Thrones that will be remembered by most listeners! As if continuing the previous track The Prototype is carried away in a rapid rushes, from time to time compressing the sound with sharp commands. But then instrumental bridges and choruses meditating melodism envelopes the sophisticated atmosphere, the vocal begins to deliberate leisurely about all possible options for the development of existing customs and customs.
The broken and changeable Iscariot musical motifs in the obscure leapfrog are combined with doubts and uncertainties in vocal phrases, hurriedly following the rapid rhythmic path, supplemented by melodious guitar notes.
Epic and meaningful hesitation in singing the verses in methane selectivity unreal, contradicting himself - finishing composition inevitably stand before the Falling from the Fate question again and again.