December 18, 2021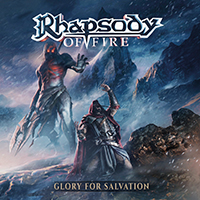 Vividly and majestically, the Son of Vengeance song enchants with the sound of vocal melody, enveloping the covers of a pensive and sonorous epic ballad. The Kingdom of Ice gives the sound a certain uneasiness, building up waves of drive in the introduction, then somewhat calming the musical vigor with the introduction of the vocals. The title track continues the Rhapsody of Fire - Glory for Salvation album with a charming unity of rhythm, drive and symphonic chorales of vocal chants.
The Eternal Snow narrative of the storyteller with soft musical tunes acts as an introduction to the next swell of the album, developing the motifs of the introduction in the Terial the Hawk song, winding the listener in the chorus with swirls of folkloric motifs. The Maid of the Secret Sand composition blows up in a blizzard and a storm of rushing drive.
Slowly and carefully raising the musical bar of demands above the clouds in a symphonic introduction, the Abyss of Pain II composition mesmerizes with symphonic grandeur and musical artistry. The Infinitae Gloriae song progressively complicates the sound in the introduction, then swiftly whirls through the musical vault, foreshadowing the return to symphonic reverie in the sound of the Magic Signs composition.
Echoes of this band's previous musical creations are revealed in the recollection of the I'll Be Your Hero (Single Edit) title song of one of their previous albums. Music and vocals come together in an impressive vortex of the Chains of Destiny musical stream.
The final compositions of the album Un'ode per l'eroe and La Esencia de un Rey seem to come together in a dilogy of a single musical artwork, that differs by lyrics language.