January 02, 2017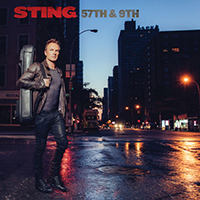 Sting - 57th & 9th (Deluxe Edition) combines periods - youth thoughtless with lack of restraints, thoughtful practicality of middle age, wisdom, knowledge and experience of elder ones .
Light story I Can't Stop Thinking About You surrounds with calm and light notes, but describes the uneasy feelings - its goal is not to complicate the situation, but only brighten up experiences.
Disarming calm and gentle verse of 50,000 (NEW Version), after preparation, dial the appropriate necessary strength and energy rushes into battle of driving chorus - after that rest and respawn will be again and again.
Thoughts carry in uncontrolled flight into intrathecal space, the mind asks to get Down, Down, Down. Experiences are somewhere skyward but the mind strives - down, down, down! Peace, tranquility, balance!
Plaque of dusty romance takes with its lyrical breath in the past dreams about One Fine Day (new version). Tenderness revives and owerflows with positive memories and good mood.
Countryside romantic ballad Pretty Young Soldier sounds like treatment for the wounds, that was caused by absence of that one.
A fun and hard on a country road in flying mindset for future achievements, there are no prohibitions and restrictions. Fun and swagger overwhelms Petrol Head with redneck verse untill serene confession in the bridge inclusion.
Experienced bard tells of his travels, accompanying with chimes of string to his thoughtful and wiser story about Heading South On The Great North Road.
Mind is full of varieties because If You Can't Love Me - thoughts and emotions opposes each other, torn ballad on disagreeing sentiment, breaking and changing the rhythm and mood later merges into a whole picture, sparkling with sequins of past experiences.
Romantic song Inshallah lists the many things that can excite the mind. Calmly and thoughtfully wrapping delicate beautiful ballad with oriental folklore motifs.
Old age is not a joy, but the experience brings a lot of memories and experiences enriches the space of experience and a variety of options for possible changes. As this light delicate ballad refuses The Empty Chair.
Next part of artwork brings pack of variations of the previous tracks. I Can't Stop Thinking About You (LA Version) takes us into californication, Inshallah (Berlin Sessions Version) keeps most worthy with us, last Next To You (Live at Rockwood Music Hall) brings a bit of live sound.