January 30, 2022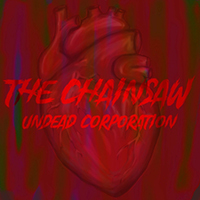 Exploding with the furious power and drive of the intro, The Chainsaw (feat. Tom Barber) title track of the Undead Corporation - The Chainsaw (EP) first release rolls out a musical canvas of furious severity, tempering the tempo and expanding the stylistic framework to an unimaginable width. Then the stylistic framework is expanded by the vocal recitative.
The romantic melodies of the keyboard solo together with the singing lady's vocal part create a romantic atmosphere of the Fragments song, then complemented by explosions of furious drive and harshness of the male vocals combining these contrasts in a wild musical stream.
The female vocals in the hard-core sound of the Blaze track come to the foreground in the introduction, then alternating and complementing the calls of the male vocals and joining together in a joint musical interlude.
Emotional proclamations of the female vocals with elements of recitative complete this release with harsh growling and screaming in the thrilling sound of the Oblivion composition.