April 09, 2022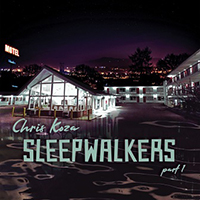 The Sleepwalkers title track opens the Chris Koza - Sleepwalkers, Pt. 1 album with a bewitching union of vocal inspiration and artistic musical backing, taking you on a dreamy journey through imaginary spaces, supported by the dreamy inspiration of the sound of the Anagram song, weaving a sparkling lace of musical sparks around vocal phrases, sometimes combining them in a joint musical artistry with notes of keyboard accents.
The chime of the acoustic guitar strings sets the direction for the White Lions main motif, then crowning it with the vocal mystery of the verse and the inspirational significance of the chorus. A celebration of musical inspiration is embodied in the soft and joyful solemnity of the Music To Me bewitching tale, combining vocal charm and musical melody in a joint musical inspiration. The Hush romantic ballad envelops vocal reflections with sparkling notes of musical charm, captivating in the unity of love experiences and the embodiment of dreamy forebodings.
Bringing vocal reflections to the forefront of the musical palette, the Red Cassette musical story weaves a mysterious lace of obscure omens from phrases and elevating the vocal tonality of the chorus above the clouds into the realm of sunlight, then continuing the vocal primacy in the narrative of the Station Wagon Blues musical memories of events left in memory forever and ever.
Significantly and impressively setting the rhythm in the introduction, the vocal narration then weaves the sparkling palette of the Man Of Stone musical tale, anticipating the thoughtful and unhurried Hollywood Theatre vocals reflections. The sparkling playfulness of the Where We Go composition completes the album with a bright and enchanting atmosphere of memories of joyful events and the charm of spending time together.