December 15, 2019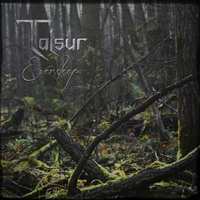 So painful and pensive Raining musical canvas rolls with severe desires, complementing with guitar reflections a pensive narration of the main motive. In the final fragment, the music tightens the sound creating a pensive lace crowned with a guitar solo, vocals complement the completion of the composition with thoughts. A guitar with a thoughtful chime announces the continuation of the Talsur - Eversleep album, then the music tightens the sound, sharing the solo hypostasis and the rhythmic component of the compositional structure. The Crave vocals creates the unifying link.
The vocals dominate the narration of 1 song, but then the musical passages create an enchanting background in the instrumental bridge, combining with the vocal narration of the The Song of Buried Tears chorus. The main motive of the Dying Alive song is intertwined with thoughtful reflections of the vocal narrative in an obscure and thoughtful dance, slowly and mysteriously developing its relationship into the diversity of the epic saga.
The Behold The Spirit bewitching ballad envelops in a fascinating atmosphere, enveloping in the inimitable triumph of the musical narrative and enveloping in the ghostly speculations of the development of the musical essence. Waiting for Emptiness continuing a thoughtful narrative brings the vocal part to the forefront of the musical image.
Starting with a thoughtful romance with wordless chorales of female vocals, Follow Me carries you to the expanses of painful meditations, but then male vocals bring the spirit of native places and some shades of country style. The instrumental suite Leaving completes the album with an enchanting chime of echoes of elusive dreams.