May 26, 2019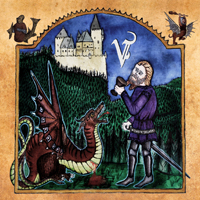 Inspirational motifs and enchanting atmosphere of epic legends begin the fascinating conceptual saga of the Vehemence (FRA) - Par le Sang Verse album, enveloping the spirit of ancient legends and tales. For inspiration with the significance and grandeur of this tale, the musical canvas begins with the title track, sweeping by a sparkling procession, creating a grand thoughtfulness by singing clean vocals in bridges.
Exploding with rampant rabies vocal cry in the La Sorciere du Bois Lunerive introduction continues the album fascinating charm of the drive, which prefers the melody and charm to ragged sharpness and angry power.
Then the composition is decomposed into two components - first, the acoustic charm of the L'Etrange Clairiere : Partie I minstrel ballad envelops you with the freezing atmosphere of medieval narratives. But L'Etrange Clairiere : Partie II continues the tangle of the spirit and melodism, paying tribute to the blade of the keynote, however, after the swift entry, slowly elevating the banners of greatness and significance.
La Derniere Chevauchee develops the continuation of the album's keynote, giving it even more gallant and fascinating outlines, enveloping the intriguing atmosphere. Then vocals calls for rapid passages and complement the main motive with influences of emotions.
Acoustic Le Sous Bois, a trois Lieues du Chateau romance and singing of birds continue with captivating flute tunes, developing in a fascinating instrumental saga, which serves as an introduction to the further development of the leitmotif of the conceptual album in the Passage dans les Douves track, enveloping perception with even more significant whirlpools and shades. Church choirs precede the completion of the album with the La Fronde des Anges song, then performing as a background to the leitmotif, then vocal complements this extravaganza with its melodies, summing up a very interesting and fascinating album.