March 04, 2021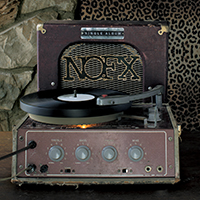 Guitar drive injects the spirit of rebellion, vocal outrage complements sound intriguing in the intro of The Big Drag composition, all prepared and ready to be deployed to the listener musical dance. The whirlwind of a lace of guitar solo from the I Love You More Than I Hate Me intro retreats in front of the vocal inspiration, continuing the sound of the NoFX - Single Album album by inspirational vortices of freedom. But then the Fuck Euphemism recalls the spirit of rebellion of the 70s, when everything became upside down, combining it in musical and vocals changes.
Rocking in leisurely reflections the Fish In A Gun Barrel song introduces a note of reggae and sea romance to the sound of the album. The drum roll, notes of driving and freedom-loving motifs are built by the swift of the Birmingham rapid musical stream, accused by vocal reflections that. swing around the dreament motive with dreamy vortices. Dense waves of the Linewleum rhythmic medium-point march rolling with persistent rhythmic urges, ascending vocal inspiration on the crest of the wave and a rapidly accelerating musical pace with the entry of vocals.
The music canvas of the My Bro Cancervive Cancer song put forward the vocal batch on the forefront of the compositional structure. Then the Grieve Soto composition combines a romantic mood with the explosions of the rapid drive. Tired of drive and change, the Doors and Fours dips in the southern tunes, bringing the acoustic notes of guitar passages to enter the shades of country-style, then processing in the rhythmic march through the hot winds of the prairie. Mysterities of an elder with soft notes of piano begins the Your Last Resort final composition of the album ending with the swift of the rapid drive.