August 01, 2020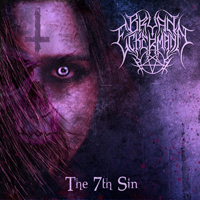 The mysteriousness of the Succubus musical mystery of the melodic charm is complemented by the vocal phrases that walk along the line between screaming and growling, sometimes deviating from one side to another. The Morbid Beauty continues the Bryan Eckermann - The 7th Sin album, whipping up great severity and mystical shades of musical sound, more clearly delimiting the difference in vocal styles and sometimes exploding with the rapid fury of musical drive.
Complementing the narration of the storyteller's screaming with epic melodism of the Tales of the Past song enchants with the echoes of forgotten fairy tales, building the bewitching grandeur of a bewitching ballad. The Graveyard Hymn retains a similar style of sound, complementing the musical passages with a touch of more mysterious mysticism.
Slightly accelerating the musical sound, the Pain or Death crowns it with the melodism of a guitar solo, delimiting the musical passages of the background rhythm with the dominant charm of the main motive with vocal phrases. The Flesh and Steel pacifies the sound a little, enveloping the vocal phrases with enchanting echoes of an epic anthem.
Pulsing with a sonorous rhythm, the Sold my Soul stubbornly and tightly strides with the sound of a battle march. Enchanting with a keyboard solo of the intro, the Nocternity then brings the vocals to the forefront of the musical image. The Same Old Song continues the lead role of the vocal part, crowning the musical narration with sparkling notes of keyboard passages. Finishing the album with soothing romanticism, the Night Comes Down combines the alternation of wistful whispers with the emotional screaming of vocals with the charm of melodic music.