June 07, 2016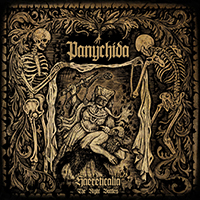 The orchestra prepares mysteriously, no one dares to contradict - we waiting for the The Wild Hunt Assembly starts Panychida - Haereticalia - The Night Battles !
Harsh'n'mighty starts Procession of the Dead proceed fast, then calms down its quickness to accomplish its sense at all!
Guitars hang the unholy spirits on the ashes of light, that's for the The Night Consumes the Light! Holy night melodically consumes its light further!
Hard, powerfuly starts the Josafat (The Gathering), then ...hard to describe! Angry growl punctuated by melodic guitar rhyme, only the leitmotif as tempered needle penetrated the entire track, keyboard leitmotif does not get tired as well!
Somewhere heard, for some reason, keep in mind once embraced In Striacium (instrumental) - but how it delights the ear, brain and perception! Argh! Keep'that'well!
Stringy and powerfully starts Hunting the Witches - the preparations not so simple, track flows like ballad - catching witches needs not speed, but exactly! That surround us with its atmosphere of justice as it can!
Ringing guitar, whispering rinse ears ... For I don't Cause the Evil! Or who done all of that?! There's no redemption - he said! Of course! No!
We go! Trying to drive the way down! We have to beat The Livonian Werewolf down without any chances to escape for him! Melody calms us down but we have to fight him - so we accelerate our tries to kill that's beast! Perchtenlaufen (instrumental) acoustic guitars floats are not apart from the general course - first herself, then her riff woven into eletrogitars and its riffs for all and all! Next electric guitar solo go forth and kick out all those has any doubts...and acoustic guitar finishes that!
Alatyri (Live - Bonus) permeates by rays of notes, beams of riffs to sublimate all of us as well! Oh, that's hard to tell - what I feel when bagpipe accomplishes the vocals by it unical sounds! You have to listen to it! The world is not standing still, he stands on Three Pillars (Live - Bonus). But they didn't assured - whirl, twist all around and crush dissent as well! Dance! Crush! Hit! Destroy! Donn't stop in that deads, even in mid-tempo pace! Crush! Kill'n'Destroy!