July 28, 2022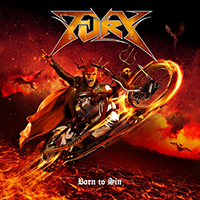 Energetically and swiftly, the If You Get To Hell First song breaks into the musical expanses of the If You Get To Hell First album, wrapping vocal phrases in whirlwinds of guitar riffs. The Nowhere To Be Seen composition, on the contrary, accentuates the rhythmic step of the mid-tempo march on the verge of the ballad, highlighting the musical image, which further significantly strengthens this style in the sound of the Next In Line song.
The twilight intrigue of the shoot recedes before the fascinating vocals story and rhythmic musical steps of the Hell Of A Night composition, somewhat slowing down the musical step and giving the rhythm a pulsating heartbeat in the sound of the Who Are You? song, anticipating an explosion of restrained drive after the intriguing Sunrise intro.
The rapid Its Rock 'n' Roll unrestrained musical dance again and again emphasizes its name, embodying its meaning in a musical drive. The Shadows And Dust romantic ballad envelops in the atmospheric charm of the sensuality of its sound, receding before the rhythmic pulsations of the Embrace The Demons song and the hopeless drive of the Born To Sin title track completing the album.