April 13, 2022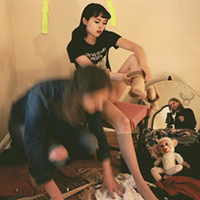 The musical mystery of the Deep Love song weaves a web of musical haze and envelops with an atmosphere of premonitions of the further development of the musical path of the Pearly - Silver Of The Mirror album, continuing with the melodic sparkle of the chime of guitar strings in the sound of a bright and inspiring 2B ballad.
Unyielding drive and pushy musical pressure in combination with vocal rebelliousness bring echoes of industrial style to the sound of the Julianne Moore composition, then rolling out a mysterious canvas of musical omens and mysteries in the sound of the Back Luck Driving song.
Fiercely, furiously and unrestrainedly, the Rub Eye/Red Eye composition brings the trends of punk rock music to the sound of the album, calming the anxieties and anxiety over the atmospheric sound of the Blues Riff mysterious ballad.
The guitar solo of the introduction intrigues with the further sensuality and mystery of the Let's Play vocals proclamations, performing in conjunction with the musical passages with the introduction to the procession of the Silver Behind The Mirror twilight dark anthem, creating a sense of the primacy of dark magic and irresistible spells in the run-up to the Dreams Of final composition of the album with notes of synth-pop music.