March 18, 2018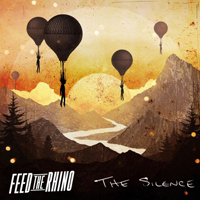 An obscure gloomy fog with an indistinct whisper begins the Feed The Rhino - The Silence album with a mysterious insight. A powerful rhythmic drive precedes the introduction of the Timewave Zero vocals, throwing up the nervousness to the limit, but then from time to time sweeps away the annoyed harsh and rising in the clean vocals romantic dreams.
With a vigorous drive, promoting the musical wave of entry Heedless calms it for a bit, freeing up space for vocal's recitative, in the chorus a romantic atmosphere is given by the sublime dreaminess of clean vocal.
Throwing aside the energetic drive and the fierce power Losing Ground gently and gently begins as incredibly romantic ballad. But then the harsh vocals nervousness adds anxiously manner tho the instrumental part that is completing composition.
Continuing embarrassed expectations, the 68 introduction rolls majestic anxiety, the vocals ask about the future prophecies, then in a rapid musical stream, clean and harsh vocals are weaving together their phrases.
All Work And No Play Makes Jack A Dull Boy sounds as persistent and significant wave of drive again pushes before the introduction of the vocal, which demands and irritates music with heated energy, in the chorus even more intensifying anger and rage.
Again a sensual ballad Yellow And Green, but now encased in the armor of sonorous motives supplementing the sensual reflections of clean vocals, enveloped in mysterious mystical musical motifs by violent phrases of screaming and harsh phrases from time to time.
The Nerve Of A Sinister Killer main motive in the dancing manner mysteriously and unpredictably introduces the atmosphere of the old saloon in the wild west, in which battles take place every day - sometimes with bandits of sherif's companions. Once again, the thoughtful romanticism envelops the vocal thoughts with a dark fog of doubt, starting Fences with a raspy harsh phrases, continuing with the majestic epic narrative of a charming legend, proudly replacing squeaky vocal reflections with shimmering answers of clean vocals dreams.
The title track The Silence begins with a muffled whisper with a mysterious muted accompaniment, like a frightened wanderer making his way through the eerie catacombs. But then the narration acquires power, the companions of the wanderer supplement his abilities. But reflections and doubts come back again.
Complementing the artistic Lost In Proximity melody with progressive tones, the vocals complement the buzzing guitar part with nervousness at first with a squeaky harsh, then with majestic clean extolling confidence in further events.
Additions of electronic music and the sluggish rhythms of the sludge are combined into the final album's track Featherweight, a broken and changeable march, with dark romanticism and changing vocal patterns.